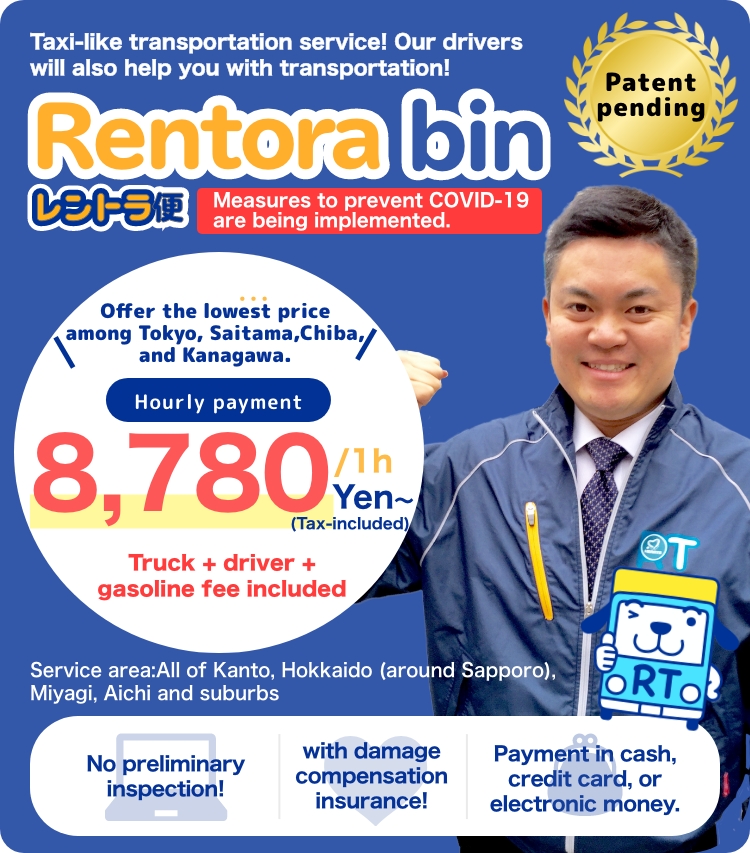 ※This service will be provided only for the clients who could communicate in Japanese.
※Customers are not allowed to ride on our vehicle by law.
What is
Rentorabin?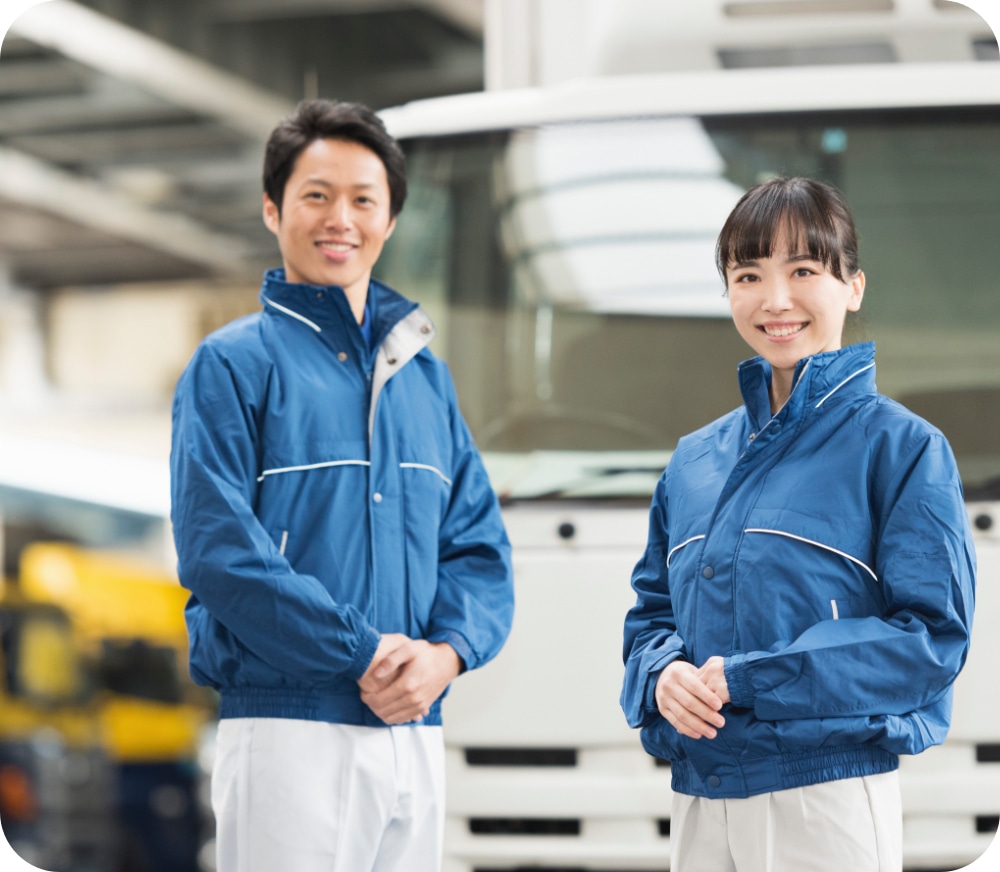 Introduced on many Japanese media platforms
as NHK News 7, Fuji TV, and Mezamashi TV!
Rentorabin is an hourly rental truck service that includes a truck and driver. Customers love our kind and polite staff, and our reasonable prices. Our drivers can not only drive, and load and unload your cargo, but will also be available to assist you with any other requests you may have within the hour.
Please use our service
in the following cases
Our service is widely used by companies, groups, and individuals for moving, loading and unloading of items for storage space, events, and school events.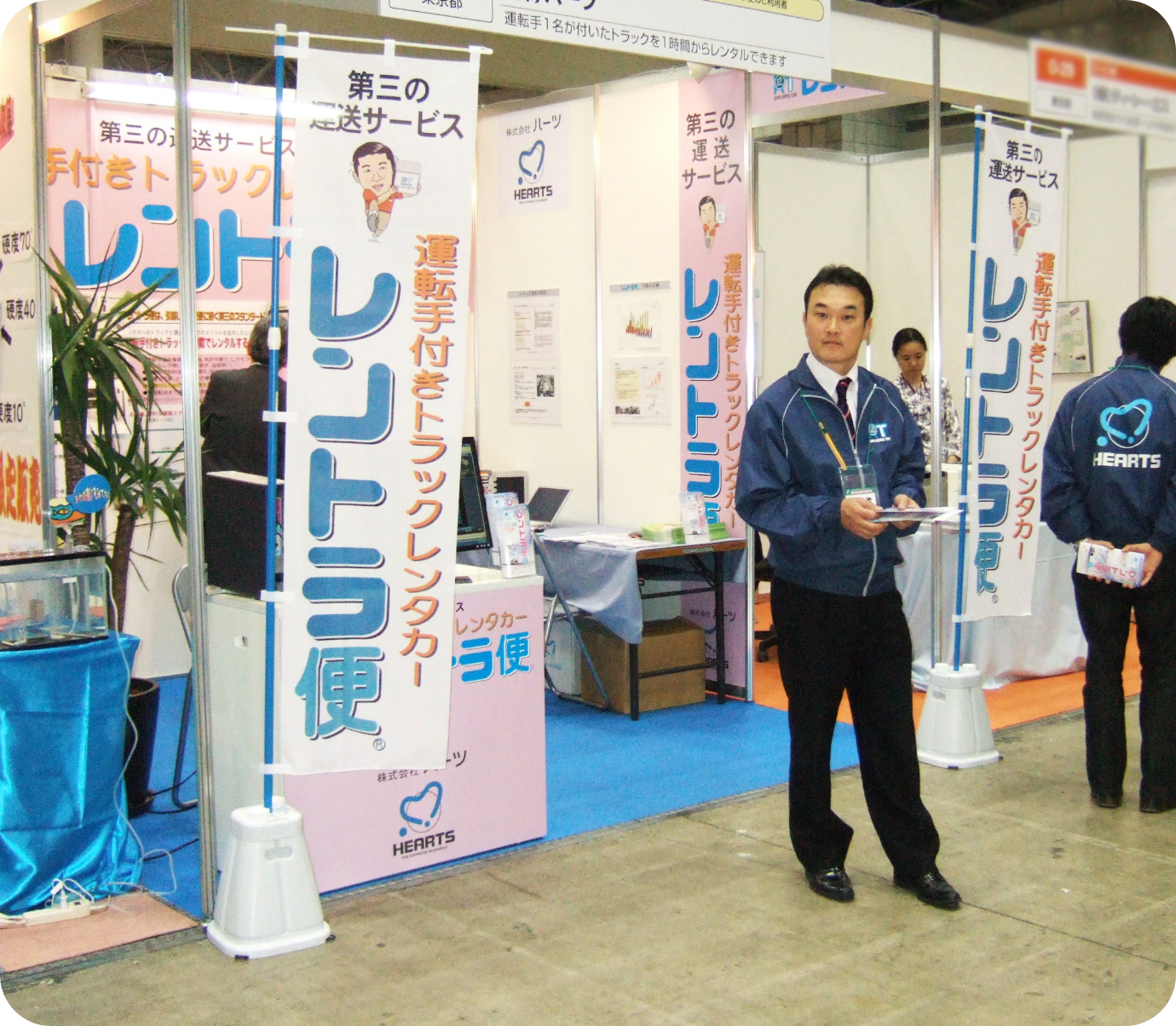 We also accept spot and regular deliveries
for companies and groups.
Rentorabin has developed and provided delivery services to meet a wide variety of needs. Please feel free to contact us if you have any problems related to cargo transportation or delivery! We also have a lot of experience in OEM and partnerships for delivery! We are also experienced in OEM and partnerships for shipping! We will provide you with a separate estimate, so please feel free to contact us through the link at the bottom of this page.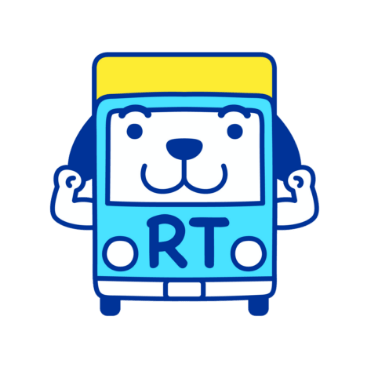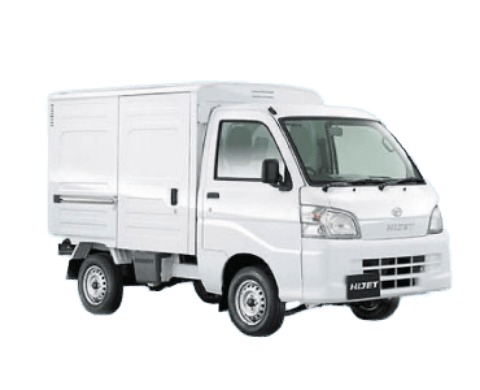 More reasonable than a moving service,
more reliable and convenient than a rental car! Why choose Rentorabin?
Only Rentorabin offers such
safe and reasonable service,
with our industry-first
hourly payment system!

For example, most moving services tend to calculate their charges based on the amount of luggage and distance. However, it is not unusual to have more items than expected when moving. And this results in uncertainty because you won't know how much it'll cost until you get your statement at the end.

In contrast we charge you hourly. This means that you won't have to worry about extra charges even if you have more luggage on the day of the service, as long as they can fit in the truck within the time you requested.

Even more
amazing points!

5% cash back if you book on a special disount day!

We do not charge for extra time due to traffic jams, or for transportation to and from your specified location after your service!
We can also transport to multiple locations within your requested time frame!
(Average running distance of 30 km)
We also give a discount of worth up to 30 minutes in case you finish early than planned. Discount is given in increments of 30 minutes, for reservations of 1.5 hours or more (except for self-service models, when distance is increased, and on extra days).
Gasoline fee included! No hassle of filling and returning gas like a rental car!

Purchase & collection
service of your secondhand
and unwanted items.

In addition to transportation, we also collect and buy your unwanted items when moving or organizing your storage space!

You can not only keep your room or office tidy, but also save some pocket money! (For more details, please refer to the banner at the bottom of this page.)

For those who prefer
an even cheaper option!
Rentorabin Self-Service
gives you about 20% discount!

We offer a 'self-service' option where you will have our driver will transport your items only without assisting with loading and unloading, saving about 20% of the total price.This is very popular among our customers too.
You will be responsible for the cargo on your own, loading and unloading to and from the back of our truck.
However, we will ensure safety and security, sharing advice on ways of loading the cargo etc, to prevent it from collapsing while in transit.
We offer carts and blankets for free of charge.

Full safety and security!
Rentorabin is proud of
its drivers.

We believe that our drivers are very important despite our low rates.We strive to train and educate drivers who can provide pleasant service from the customer's perspective.This has led us to receive requests for our drivers from customers who have used our service in the past. We have received excellent reviews from people from a wide range of age groups who rely on us with confidence.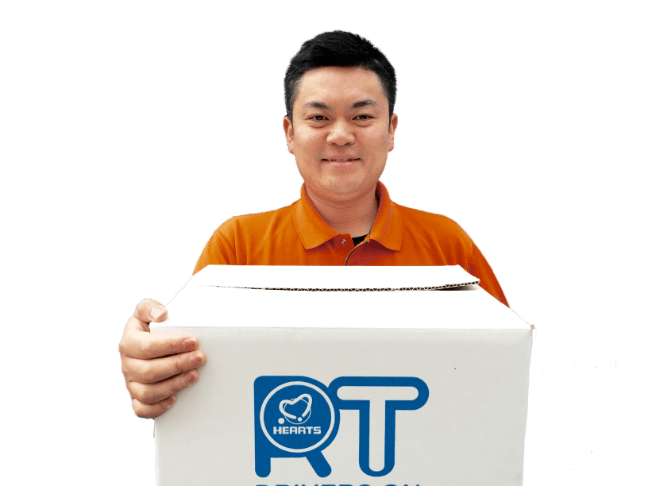 Simple communication and easy to understand!

Our service flow
from its application
to completion
For quotes
There is no preliminary inspection.
Request your quote via the website or phone.

We will send you a quote by e-mail or phone.

You can check and make your reservation!
For reservations
Make a reservation via web or phone

We will visit you at the date, time, and place you specify.

Payment by cash, credit card, or electronic money after the completion!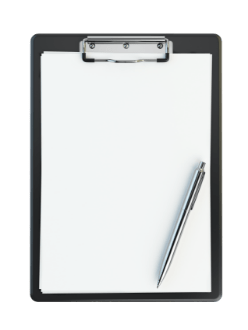 This service will be provided only for the clients who could communicate in Japanese.
Rentorabin offers a service
with a great balance of time and price! Check the price
First, confirm your preferred date and time.

※ Calendar may be subject to change without notice.

Terms of Use

Special sales days (discounts) are applicable between 9 AM and 6PM.
Only the basic rate is applicable.(Not applicable with highway fees, parking fees, overtime fees and options if your running distance exceeds over 30 km)
The use of discount services is not applicable.

Please first select whether you need a driver without assistance or with assistance.

Without assistance

We offer a 'self-service' option where you our driver will transport your items only without assisting with loading and unloading.

※ Our drivers won't touch your items.

With assistance

Drivers will assist you with transporting, loading and unloading cargo.We will also help you with any other work you wish to do, such as cleaning up, within the time you have requested.

(Note: Work in areas where parking is prohibited will be limited.

Please select the type of truck and time you would like to use.

More than four hours are available. Please feel free to contact us.

Light truck

Length: 340cm (180cm)
Width 110cm〜(100cm〜)
Height 125cm〜(About 140cm)
Volume around 2m&sup3

※The figures in parentheses are internal dimensions.
※Some light trucks have a chilled cargo area.
※The size is standard and may vary slightly from vehicle to vehicle. Please be careful when you make a reservation.

| Time | 30 minutes | 1 hour | 1.5 hour | 2 hour | 2.5 hour | 3 hour | 3.5 hour | 4 hour |
| --- | --- | --- | --- | --- | --- | --- | --- | --- |
| Without assistance | 3,510円 | 7,020円 | 10,540円 | 14,070円 | 15,840円 | 17,600円 | 18,610円 | 19,620円 |
| With assistance | 4,390円 | 8,780円 | 13,180円 | 17,590円 | 19,800円 | 22,000円 | 23,270円 | 24,530円 |

(Tax-included)

Please slide to the left.

1t van

Length around 470cm(around 280cm)
Width around 130cm(around 120cm)
Height around 125cm(around 125cm )
Volume around 4.5m&sup3

※ The size in parentheses indicates the inner dimension.
※ Size is a standard value and may vary slightly depending on the vehicle.Please be careful when making a reservation.

| Time | 30 minutes | 1 hour | 1.5 hour | 2 hour | 2.5 hour | 3 hour | 3.5 hour | 4 hour |
| --- | --- | --- | --- | --- | --- | --- | --- | --- |
| Without assistance | 4,480円 | 8,960円 | 12,080円 | 15,200円 | 17,600円 | 20,000円 | 21,150円 | 22,300円 |
| With assistance | 5,600円 | 11,200円 | 15,100円 | 19,000円 | 22,000円 | 25,000円 | 26,440円 | 27,880円 |

(Tax-included)

Please slide to the left.

2t aluminum van

Length: around 640cm (around 440cm)
Width :around 170 to 200 cm (around 170 cm)
Height: around 195cm (around 195cm)
Volume: around 11〜15m&sup3

※ The size in parentheses indicates the inner dimension.
※ Size is a standard value and may vary slightly depending on the vehicle.Please be careful when making a reservation.

| Time | 30 minutes | 1 hour | 1.5 hour | 2 hour | 2.5 hour | 3 hour | 3.5 hour | 4 hour |
| --- | --- | --- | --- | --- | --- | --- | --- | --- |
| Without assistance | 6,045円 | 12,090円 | 15,210円 | 18,320円 | 21,430円 | 24,540円 | 26,990円 | 29,430円 |
| With assistance | 7,560円 | 15,120円 | 19,010円 | 22,900円 | 26,790円 | 30,680円 | 33,740円 | 36,790円 |

(Tax-included)

※Please note that vehicles with gates will be charged 20% more.

Please slide to the left.
We will lend them to you for free!
If you need any items including cargo, a hanger box,
bellows (used for protective material for large furniture),
protective blanket for packing, please let us know when you apply.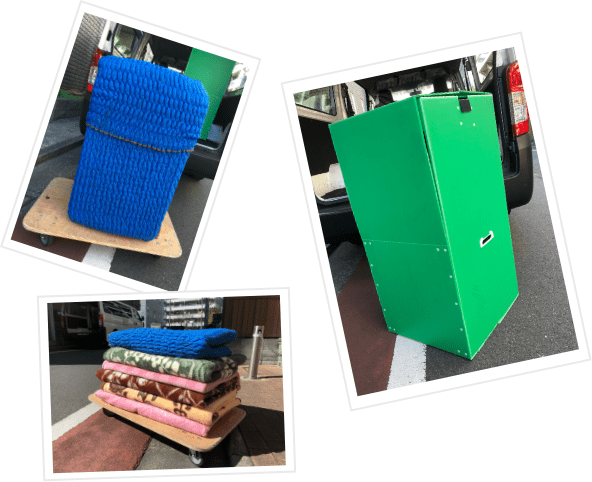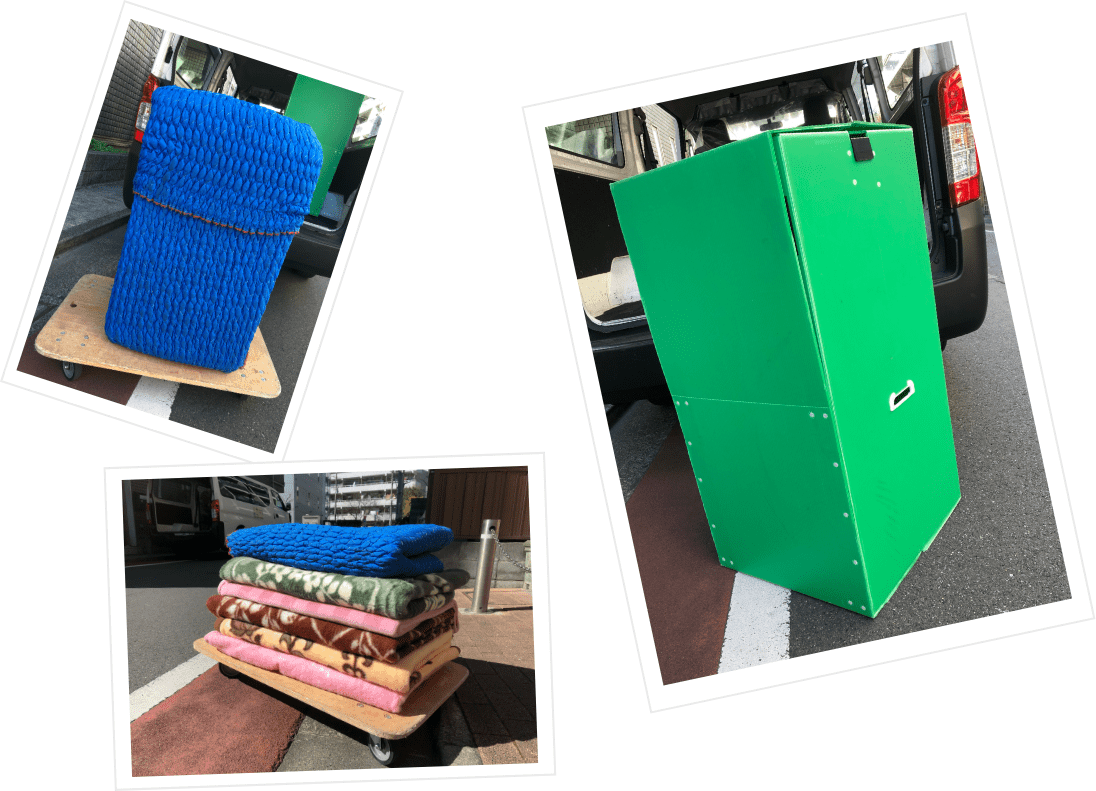 Information
About fees
Our rates for early morning (6AM to 9AM) and nighttime A (6PM to 9PM) are 30% higher than the rates listed above.
The rate goes up by 50% for the option night B (9PM to 6AM).
Overtime is charged at a flat rate of 2,900 yen per 15 minutes. (The above rates will be added for early morning and Nighttime A and B)
If the distance traveled is 31km or more (61km or more for schools, organizations, and corporations), 200 yen will be added for each kilometer for light trucks and 1-ton vans, and 300 yen for 2-ton and 4-ton vehicles. The highway fee will be charged for a round trip only if the distance traveled exceeds 31km.
Transportation within the same building is available at the rate of a 2t aluminum van.
For the 30-minute service, only AM/PM can be specified, but you can also specify the time for an additional charge of 1,320 yen.
Notes on the use of 2t trucks
A minimum of 3 hours is required for moving with a 2t truck.
If you are using with a truck of 2t, you will need at least two people to help you besides the driver. If you do not have a person to help you, you will need to add an optional worker (for a fee).
If you do not have two men to help you on the day of your visit, we will not be able to work.If we are unable to start the work, it will be considered a cancellation on the day of the service and 100% of the fee will be charged.
About the driver on the day of the service
On the day of the service, the driver will load, unload, and unpack your belongings within the contracted time, while consulting with you.The driver will assist with loading, unloading, unpacking, and setting up of the shipment within the contracted time.
Please note that we may not be able to accept extensions on the day.Please allow plenty of time for this service.Please note that there will be restrictions on the work in areas where parking is prohibited. Please understand this in advance. You can also use toll parking lots. (Actual cost will be charged)
We also have convenient optional services!
For anyone shorthanded!
Additional staff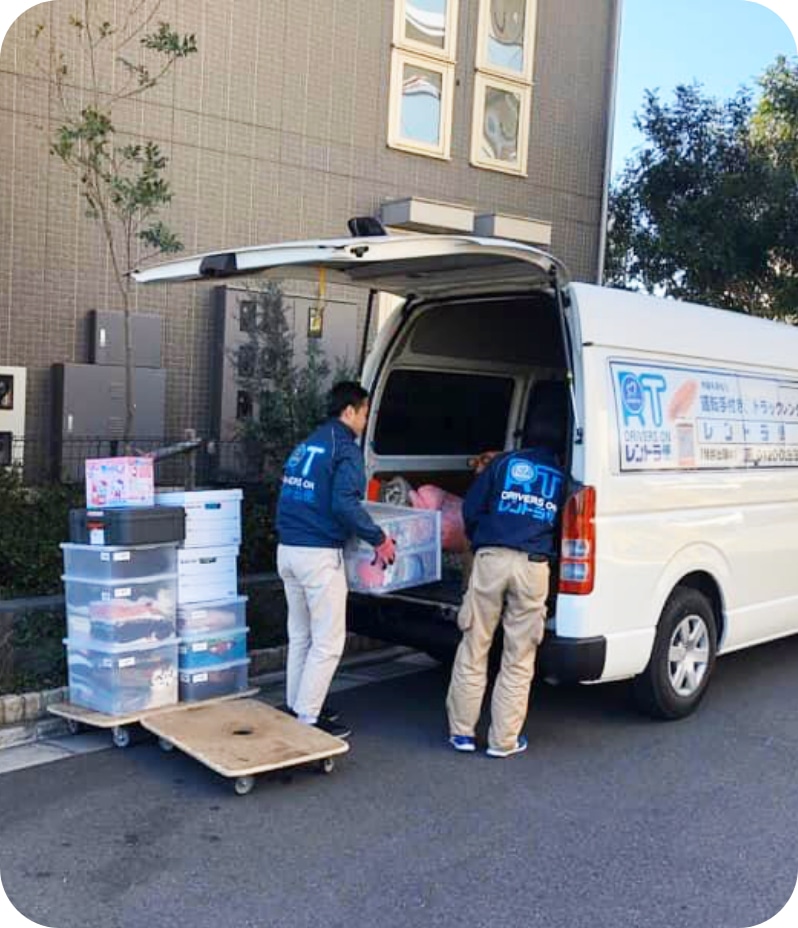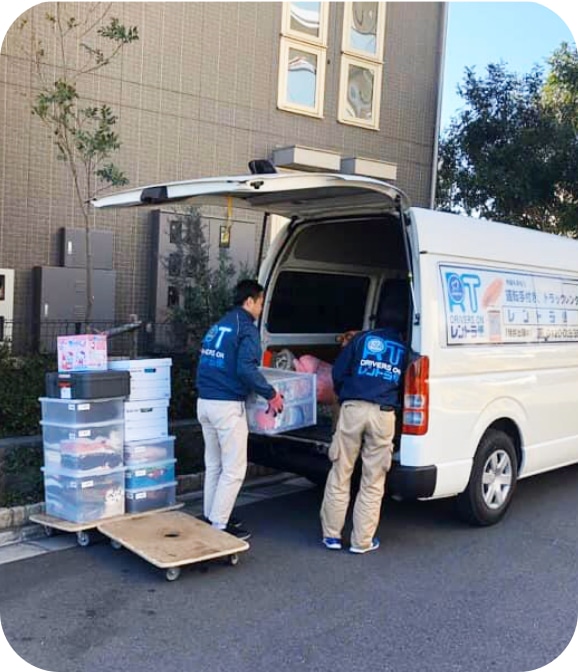 If you are using a 2-ton truck, you will need two male workers in addition to the driver. Regardless of the type of truck, if you are short on manpower, please contact us!
| Operational hours | Weekdays | Weekends・Holidays |
| --- | --- | --- |
| Within 1 hour | 8,960円 | 11,000円 |
| Within 4 hours (in Tokyo) | 15,120円 | 18,140円 |
| Within 9 hours (in Tokyo) | 19,440円 | 23,330円 |
(Tax-included)
※The above rates are for one person. 9:00 - 18:00.
※Transportation fee will be charged outside of 23 wards.
※A surcharge will be applied from February to mid-April.

Air conditioners, washing machines, etc.
Installation and removal service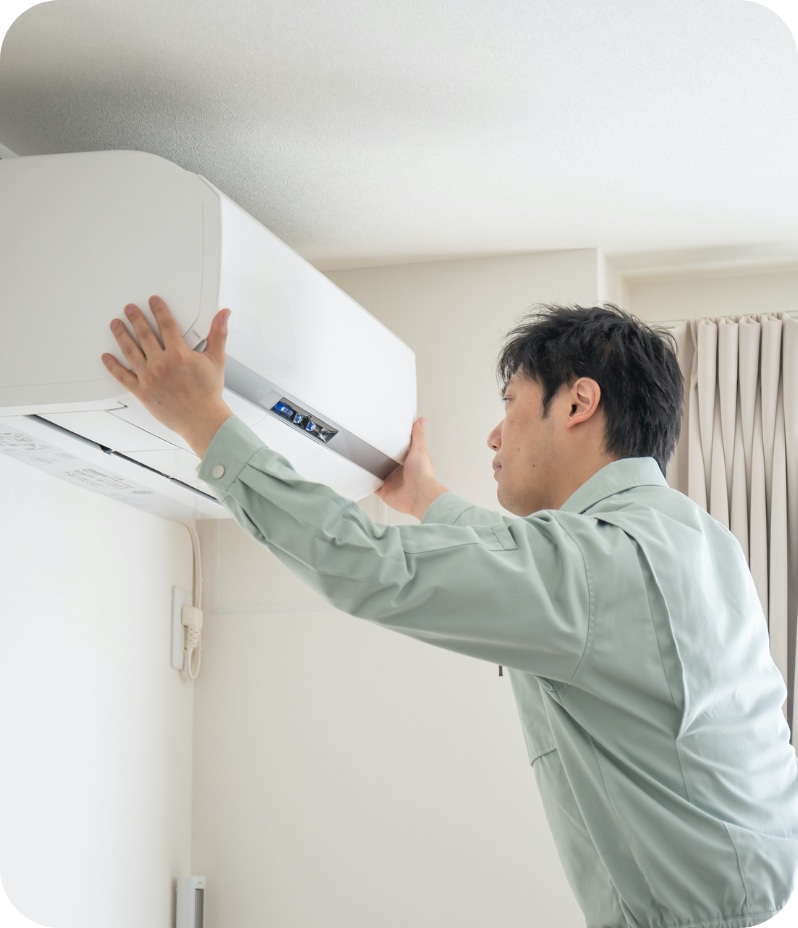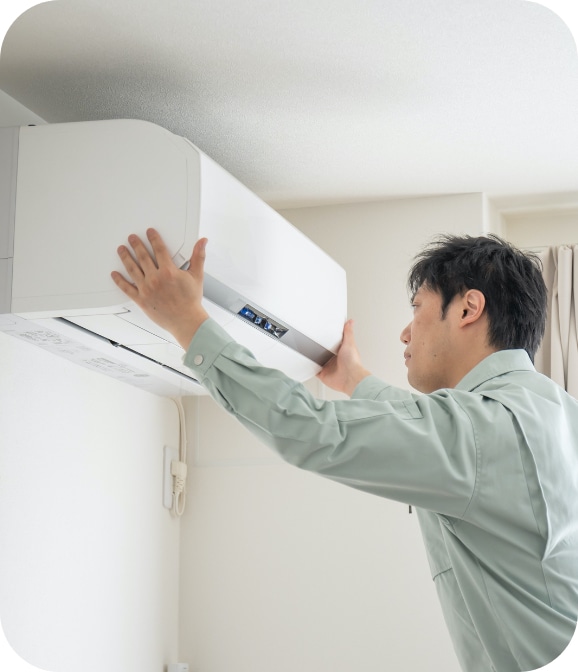 We offer many services including installation and removal of air conditioners and drum-type dry washing machines. Please feel free to contact us. We will be happy to give you a quote.
| Service | Air conditioner | Drum-type dry washing machine |
| --- | --- | --- |
| Installation | 7,700円 | 8,800円 |
| Removal | 6,600円 | 8,800円 |
| Set up | 14,300円 | 16,980円 |
(Tax-included)
※Please note that the service may vary depending on the model and the area.
We also offer other services!
Please feel free to
contact us for a quote!
Packing materials
We have also other materials ready, including cardboard boxes in sizes S and M, paper-made futon bags , gummed cloth tape and packing materials.
Luggage storage
We also offer temporary storage of your belongings for your move or transportation.
This service will be provided only for the clients who could communicate in Japanese.
How you use it is up to you!

Use examples of Rentorabin service
For individual customers
For single-moving customers

It's super popular with our reasonable price! We are also happy to help move inside your building, as well as buying and collecting unwanted items! You can even stop by!
※ We don't do inspections.

For unloading items of your storage space

We're also be happy to collect your unwanted items! In some cases, we can load more stuff than a cab, and it's cheaper! We can also help you dispose of your unwanted luggage!
※You can also dispose of your unwanted luggage!

Transportation and delivery of furniture, appliances, and merchandise.

Even when selling or buying at online flea markets and auctions! Temporary storage and multiple drop-offs are also possible!
For corporate customers
Transportation at exhibitions and events

Carry in and out to the venue cheaply and easily! We are popular for transporting musical instruments for club activities and concerts, as well as for carrying in and out of model rooms. We also offer wing cars (with stage stairs) for easy loading and unloading.

Delivery and collection of commercial goods and supplies Same-day delivery of group baggage

We have a wide range of customers in the apparel industry, model rooms, elderly care facilities, medical institutions, schools, and agriculture.
Also for baggage delivery when groups travel. We can be used at designated locations such as train stations, airports, and hotels.

For chartered long-distance transportation

We can use light trucks, 1-ton, 2-ton, 4-ton, and large trucks. Special transportation is one of our specialties! Please feel free to contact us.

99.9% Customer Satisfaction Testimonials
I just would like to say thank you to the driver and the staffs who helped me with smiles even though it was at midnight.

I couldn't arrange a car due to a sudden change of schedule, and that's why I looked it up and struggled to a car, where I happened to find your website and decided to make a call.I was a bit worried as it was my first time to use Rentorabin, but after all, I'm just really grateful for the pleasant service they provided.
The work and attitude of the drivers and staffs were excellent, completing everything within a scheduled time at a lower price than the original quotation, and I can't thank them enough.

I was very impressed with the excellent service they offer.

It was the first time I used their service. I happened to find them as I was surfing on the internet. Just renting a room was quite an expense, and although I had several moving companies give me quotations, most were quite expensive and not in my budget. I was very satisfied with the system and the price of Rentorabin, the quote was detailed and easy to understand, and the person who actually came to the site was very prompt and likable!! Thank you very much for all your help.

The driver was very responsive and courteous, and I would definitely use their service again.

I found your company's service very reasonable as I was searching online and that's why I decided to give it a try. I initially thought that their service won't be as good due to such low price and with a limited period of time, but I was wrong. The driver who came to help was very responsive and polite, and I definitely would like to use their service again. I had such a great experience of the service overall. Thank you very much.
So many testimonials
from our customers!!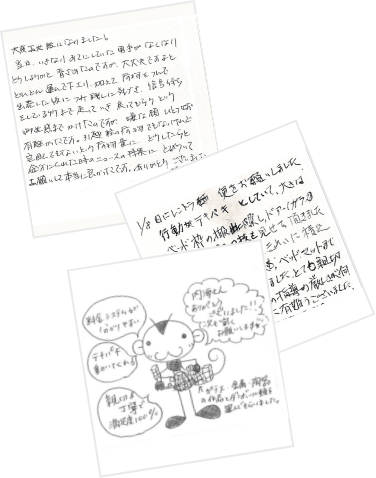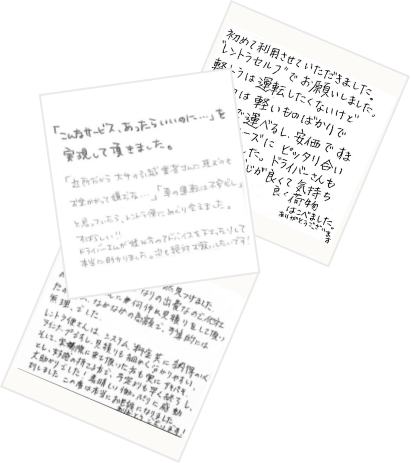 We are here to help solve our customers' needs!

Frequently Asked Questions
Can I ride in your vehicle too?

By law, our customers may not ride in our vehicles.

Can I make a stopover or return trip?

Yes, you can.

How many days in advance do I need to make a reservation?

There are no specific rules. We accept reservations on a first-come, first-served basis, but weekends and the end of the month can get crowded. This service will be provided only for the clients who could communicate in Japanese.
Prevention of COVID infection at Hearts Co.
We will take all possible measures to maintain good health.

Avoid crowded places
as much as possible.

Wear a mask.

Gargle as much as possible.

Wash hands before
and after work.

Disinfect both hands, PC, phone, with alcohol.

Keep a certain distance from people.

Ventilate the office on a regular basis.